At Patterdale Hall we can offer a full range of outdoor activities, all based onsite and within easy reach of our front door. We have access to three local crags, boathouses where the kayaks, canoes and sailing dinghies are kept, and the grounds where the ropes course, gorge and archery range are all just by a short walk from the Hall.

The centre is licensed with the Adventurous Activities Licensing Service (AALS) to provide adventurous activities to under 18's all year round. Our ideal location means that there is no need to spend any time travelling in minibuses to get to the activities. Our activity programmes are developed with your group in mind, so please approach us with any ideas and suggestions that you may want to incorporate. All specialist equipment is provided for each activity within the cost charged.
Patterdale Hall is a recognised teaching establishment for the RYA (Royal Yachting Association) and is able to offer courses for dinghy sailing and powerboating. We are also able to organise BCU star test awards. Please get in touch with our office if NGB qualifications are something that you are interested in. Whilst it is more normal for us to provide activities to groups that are residential at the Hall, it is possible for us to also provide activities for non residential groups, and also on occasion to provide activities at alternative venues.
Groups that are residential at Patterdale Hall are, of course, welcome to organise all or part of their own programme, but please be aware that the Patterdale Hall AALS licence only covers programmes organised and run by Patterdale Hall. Outdoor equipment is not normally available to groups undertaking their own programmes.
---
 Bushcraft
This is an activity that encourages participants to get involved with the environment. During the session they may learn how to efficiently start a fire, cook outside, or perhaps create shelters.  More advanced bushcraft may explore creating cooking utensils like pot stands and fire tripods out of wood and then could lead to cooking fish for supper. A very popular activity.
---
 Expeditions
Set out on an adventure carrying everything you need in a rucksack or dry bag. Walk, canoe or even sail. The aim of expeditions is to allow participants to explore the places using just their own determination and physical strength. Spend the night in a tent / camping barn or bothy after cooking a meal on a trangia stove. A real team building experience.
---
Hill Walking Activities
Learn how to navigate your way around the Lakeland fells, understand the equipment you need to be safe, and how to work as a team to achieve your goal. Reach your summit to enjoy amazing views and a real sense of achievement, before descending safely back to the centre.
---
 Sailing
Learn how to sail a dinghy with your friends. Enjoy learning how to turn and sail with the wind while taking in amazing scenery. Patterdale Hall is a certified training centre with the Royal Yachting Association (RYA) and can offer sailing awards and powerboat and safety boat course. Please get in touch to discuss your requirements.
---
 Kayaking
Experience the satisfaction of getting your kayak to move in a straight line and around obstacles. Play games to increase your confidence and develop your skills. Once you have grasped the basics, use your skills to go on an adventure on the amazing Lake Ullswater.  For those wanting more, we have progressive boats including river kayaks, touring kayaks and sea kayaks.
---
 Canoeing
Learn how to manouevre this versatile craft. Paddle it with another person and experience how important communication is. Pack it with camping kit and spend the night out under the stars, or raft two together and have a safe, stable craft for the youngest of groups. Great fun and very good at developing teamwork skills.
---
Barrel Rafting
Work as a team to design and then build your raft using spars, ropes and barrels. How well you tie your knots is very important if you want to stay afloat. Find out who are the natural leaders in your group and who is prepared to get stuck in. If you all work together you should stay dry!
---
Caving
This is a great activity where you get the chance to experience an environment that many people never will. Find yourself in amazing caves and small windy passages. Squeeze through holes and climb up waterfalls. You will be supplied with all the equipment you need for your underground exploration, and a highly experienced instructor who can explain how this amazing place came to be.
---
 Duke of Edinburgh
The centre runs expeditions from Bronze to Gold both practise and assessments. We use all types of transport from foot to canoe to bike to sea kayak. All equipment can be supplied and we are happy to help students who wish to create their own expedition either in the UK or abroad.
---
 Archery
A sport in which arrows are shot with a bow in a controlled way towards fixed targets. This takes place in the archery range in our grounds. Participants are taught everything that they need to know to be able participate at a basic level. While taking part in archery, the instructors will set a number of different challenges to try and complete.
---
 Low Ropes
The low ropes course in the grounds provides the challenge of trying to get round the course without touching the floor, as well as many other challenges set by our instructors. The course has recently had new elements added to make it complete. The course also encourages communication and helps individuals build their confidence while also developing balance and coordination.
---
Team Building and Problem Solving
We offer a range of outdoor team building and problem solving activities that will suit a range of different ages and abilities. Each team building and problem solving activity provides a different challenge that you will have to try and overcome to achieve the goal.
---
Orienteering
A great opportunity to develop practical map reading skills within the safety of our in-grounds orienteering courses. Once equipped with the skills, participants are sent off to find markers against the clock in small groups. This enables participants' independence as they have to make decisions to solve any problems that may occur.
---
Abseiling
Experience the thrill and personal challenge of trusting your equipment, yourself and your instructor when you step backwards off the top of a crag and lower yourself down to the ground. Not as easy as it sounds! Individuals will be challenged by choice at a venue suitable to the group and the prevailing weather.
---
Gorge Walking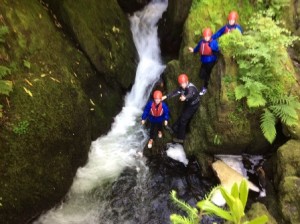 Gorge Walking (Ghyll Scrambling) takes place within the Patterdale Hall grounds. Described by some as the most fun you can have in a wetsuit! As our most popular activity, Gorge Walking encompasses all our activities in one. From simply scrambling over rocks to exploring tunnels, rock slides, traversing above rock pools, swimming, floating, and ultimately jumping into the beck – it has something for everyone. The gorge is adaptable for younger groups and also offers more adventurous routes and team activities for those wanting a more challenging session.
---
Rock Climbing
The most classic and, for some, the most memorable of all outdoor activities. We have two mountain crags readily accessible from Patterdale Hall. Oxford Crag offers stunning views over Lake Ullswater and many varied climbing routes from simple scrambles to more challenging vertical routes perfect for younger students. Our alternative crag up the Grisedale valley offers many more routes for the more adventurous. From learning the basics of bouldering and movement on the rock to belaying, tying in, and simple appreciation of our roles within a team, rock climbing is a great all round activity that anyone can achieve great things on.