Special Offers March 2020
We have discounted the prices for late availability in the Dairy for March 2020.  Please use the link below to book.
Patterdale Hall Holiday Lettings
The Dairy is set within the private Patterdale Hall estate on the shores of Lake Ullswater. Managed by the team at Patterdale Hall, The Dairy is available to be rented via both Holiday Lettings and AirBNB.
The Dairy  is designed for just a couple, sharing a double bed in the extremely quirky, messanine style bedroom, up a steep wooden ladder. Because of this, the property is not everyone's choice and due consideration should be given before booking. Reviews for the property on Trip Advisor are available here.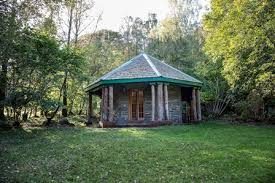 With the villages of Glenridding and Patterdale each within a 10 minute stroll, the Patterdale Hall estate is a perfect base from which to explore the local area. Paths lead off the estate straight onto the fell with the summit of Helvellyn less than a two hour walk for the fit. For the more sedate holiday maker, why not peruse the local shops, take a ride on the lake steamer or sample one of the many hostelries that are all within easy reach.
More information, or to make a booking please click HERE, or please do call us on 017684 82233